For the second year, I am celebrating this day as a teacher. Last year, my wish on this day was "not to celebrate it again", but unfortunately, my wish did not come true. On this year too, I have the same wish : NEVER to celebrate it again.
Nevertheless, I cannot hide the pleasure I felt yesterday when my pupils, each in his turn, hugged me, offered me a flower, a small card, or a little present, wishing me a Happy Teacher's Day. I was deeply touched.
My favorite teacher's day gift was a lovely bouquet of pink daisies. I've always LOVED flowers and considered them as the best gift I would have.
I looked like this when I arrived home, lol.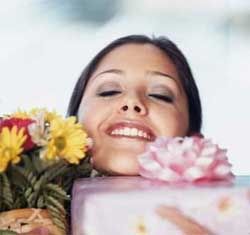 On this day, I remember my teachers as well, I wish I can tell them how much I love and miss them. My dear teachers, I know that you're not going to read this, but I'd like to wish you a Happy Teacher's Day. Thank you for everything.
Nana.